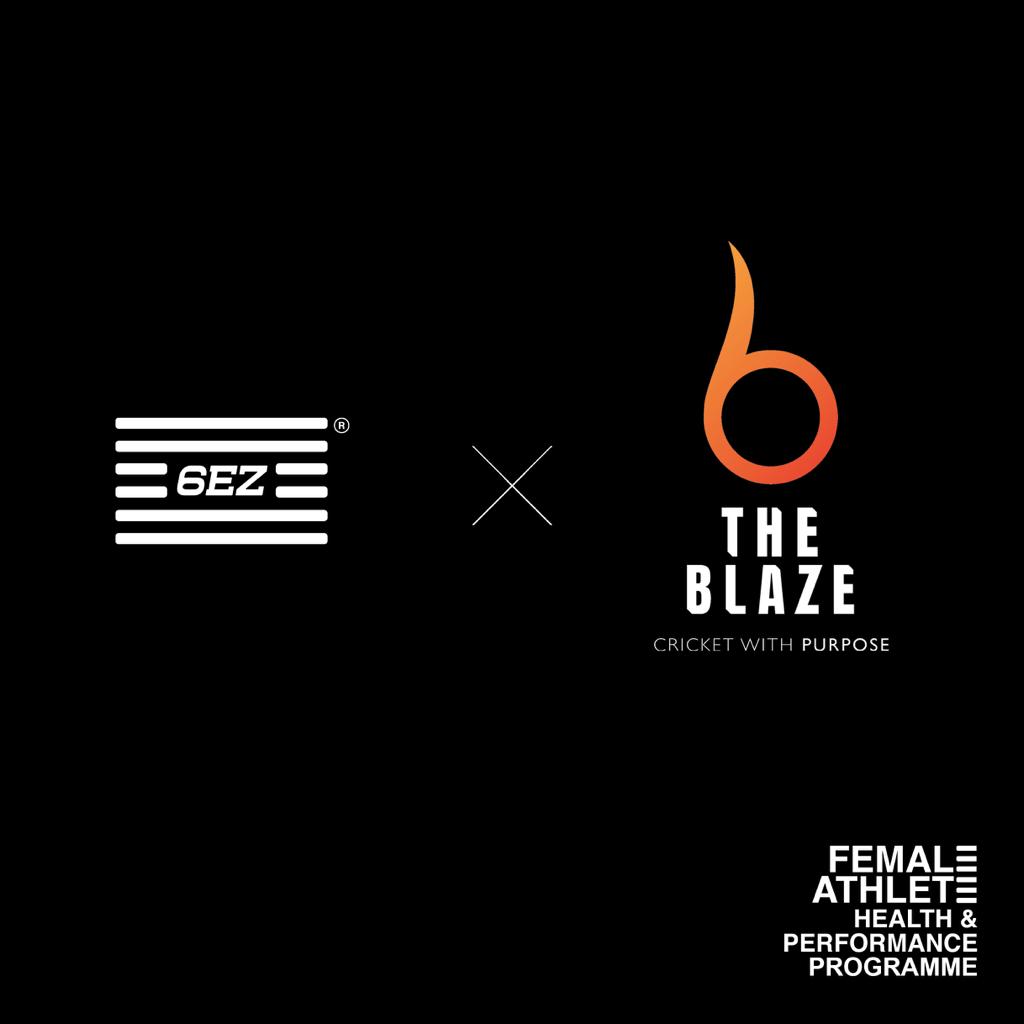 6EZ Group Announce Female Athlete Health and Performance Partnership with The Blaze Ahead of Inaugural Season
Regional women's cricket team The Blaze partnering with 6EZ Group on newly-launched female athlete health and performance programme (FAHPP)
Players will now be using sports impact vest brand, Zena, and sports period-wear brand, Iceni
FAHPP features a number of brands and products centred around the progression of women's sport
6EZ Group has announced an exciting new partnership with The Blaze to deliver a ground-breaking Female Athlete Health and Performance Programme to the UK's new home of elite women's cricket in the East Midlands. 
Through the new partnership, The Blaze, who are based at the iconic Trent Bridge, will now have the opportunity to utilise some of the most innovative women's sports performance brands. This will include sports period-wear brand, Iceni, and sports impact protection vest brand, Zena, which will now be enabling The Blaze athletes to perform at their best each time they step onto the pitch. 
Iceni and Zena form part of 6EZ's newly-established 'Female Athlete Health and Performance Programme'. The programme, which houses a number of brands and products, is designed to remove barriers for women and girls in sport by pairing education and insight with a suite of solutions to enhance performance at both elite and grassroots level.  
Iceni was first created by Francesca Hansen and former international netball player, Vanessa Smith, and is the only sports performance period wear brand in the market. The inception of Iceni was first sparked by the fact that many females experience a desire not to train while on their period. 
Further research led Francesca and Vanessa to developing safe, reusable period wear that is tailor-made for sport and is both environmentally and economically sustainable. 
Zena was founded in Australia by Donna and Brad Johnson following their concerns for the lack of protection available to young women participating in contact sport. The lightweight vests provide extra breast and rib protection for women participating in sports and are already used to great success across a multitude of sports. 
Since partnering with 6EZ Group in 2022, Zena has introduced an entirely new product to the UK market which is designed to be used across a variety of sports including cricket, rugby, AFL, football, basketball, lacrosse, netball, cricket, boxing, and martial arts.
Speaking on the partnership, Ben Thompson, CEO of 6EZ group said: "The Female Athlete Health and Performance Programme has been born out of a passion that 6EZ Group holds for female sport. It encompasses a holistic approach to athlete health and performance through the means of education which is crucial at all levels of sport.
"To be partnering with The Blaze ahead of their inaugural season is not only a fantastic step forward towards removing barriers for females in sport, but also highlights a shared commitment to supporting these top-tier athletes to perform at their best. 
"This partnership is enabling a really significant shift within the fabric of female sport; one that recognises the challenges faced by female athletes and offers solutions to give them more confidence in their respective arenas."
Sally Clarke, Team Operations Manager at The Blaze, said: "We are thrilled to be partnering with 6EZ Group to deliver this programme. These solutions will help our players to train and compete with confidence, as well as helping to remove barriers for younger players in the sport. 
Educating the future generation of females in cricket is imperative for the longevity of the sport and is something we're proud to be enabling at The Blaze."
To find out more about the 6EZ group visit their website here: https://6ez.group/