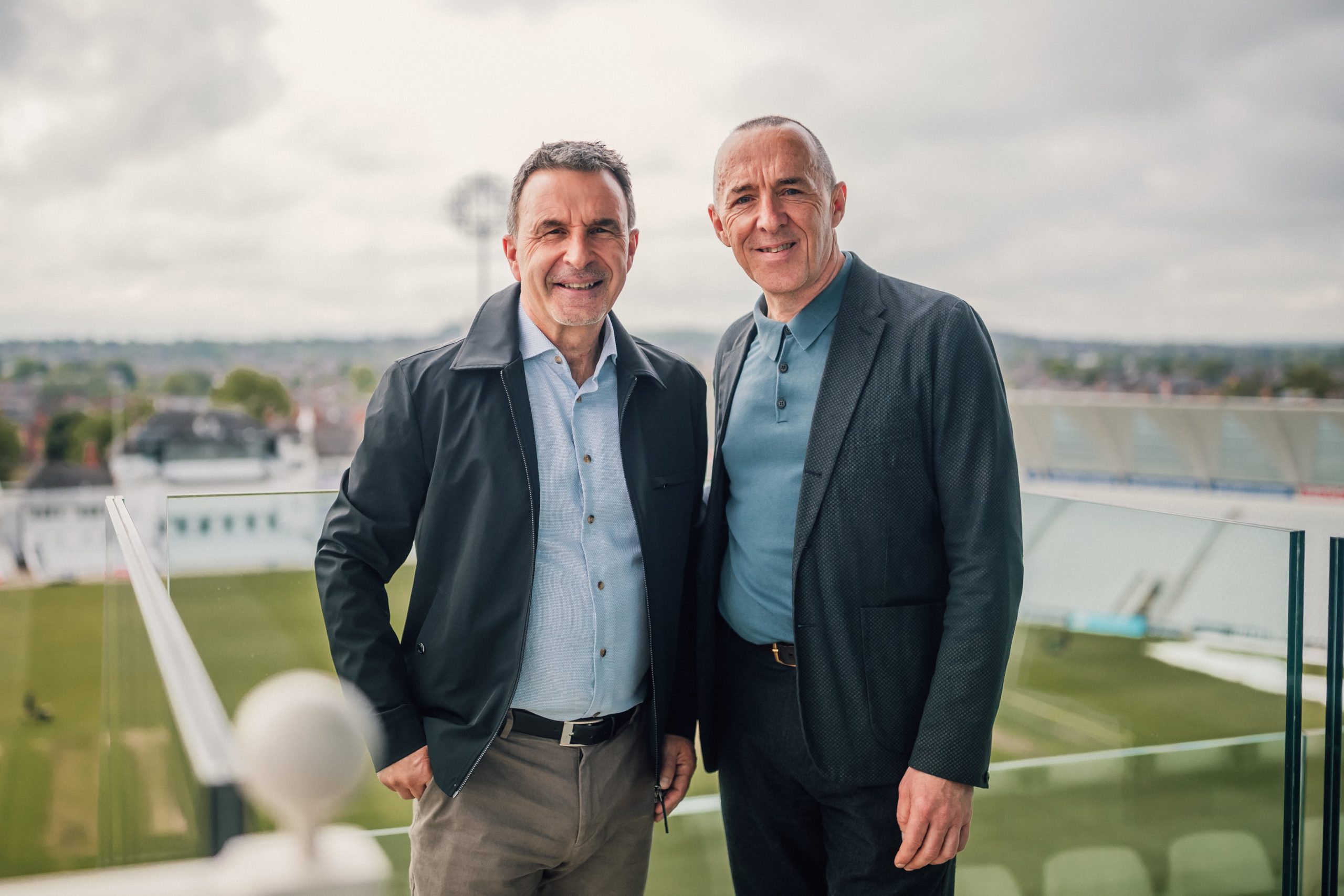 Image reads from left to right: Board Directors David Belli and Andy Caddell
6EZ Group Announces Double Board Director Appointment 
– Andy Caddell and David Belli join group as Board Directors to provide experienced strategic guidance 
– Both have strong history of success in agency and commercial sectors and will provide investment in 6EZ Group to aid growth 
– Announcement comes a year since launch of 6EZ Group and follows a successful 12 months which has seen the Group secure contracts with the likes of Pukka, Vessel and Kitlocker 
6EZ Group has today (18.05.23) announced the appointment of Andy Caddell and David Belli as Board Directors. The pair bring significant experience to the Group having both previously founded and grown successful international businesses. They will now provide strategic guidance for 6EZ as well as investment to aid the agency's growth.
The Nottingham-based duo have been appointed to the 6EZ Group Board as the specialist sports marketing agency marks a year since its launch in May 2022. During the first 12 months, the Group has secured a number of high profile projects for a range of leading brands. This has included establishing an exclusive distribution partnership with golf brand Vessel, working with Pukka Pies on an exciting new grassroots football campaign as well as a range of creative, communications and commercial projects with the likes of Nottingham Forest Community Trust, the National Football Museum and Kitlocker.
Andy Caddell, originally from North Wales, set up his business in the promotions industry in the mid 1990s. This business evolved into a specialist healthcare communications agency which works for a number of multinational pharmaceutical companies. He also holds positions of Director at Golden Haze and is Chair of the Nottingham Forest Supporters' Trust.
David Belli, originally from South Wales, is Founder and Executive Chairman of Medstorm, a medical equipment company based in the East Midlands employing more than 300 people across the UK.
Both Andy and David have lived in Nottingham for more than 30 years and hold a strong interest in sport, which is what attracted them to 6EZ Group given the agency's focus on the sporting sector.
Andy Caddell said:
"In less than a year, 6EZ Group has already showcased a unique approach to sports marketing that is of real benefit to major brands, organisations and individuals involved in sport. The growth of the agency has been rapid and there is huge potential for this momentum to be maintained in the coming years. I am delighted to be joining the Board and look forward to working with the team."
David Belli added:
"I've been really impressed by the ambition of the team at 6EZ Group, as well as the work the agency has done over the last year. Sport is more than a business, it's a passion for millions of people and 6EZ understands this well, meaning they are experts in connecting brands with fans. It's been a successful first 12 months and I'm now excited to be joining the agency on its future journey."
6EZ Group CEO, Ben Thompson, said:
"Andy and David joining as Board Directors is an important moment for 6EZ Group. They both have proven track records in developing their respective businesses and understand what is required to create success. By investing into the Group, it will also enable us to continue our rapid growth. We're delighted with the success during the first 12 months of the agency but this marks a significant moment in our plans for future growth."